Here at Snooker and Pool Table Company, we operate on a bespoke, made-to-order basis for our customers. We pride ourselves on producing high quality, customised and unique tables for each and every one of our clients according to their preferences and desires, which means that our ordering process is a little more involved than just hitting 'Add to Cart'.
From deciding what kind of table you're looking for, to design, through to the production and delivery, we've put together a handy step-by-step guide to get you started.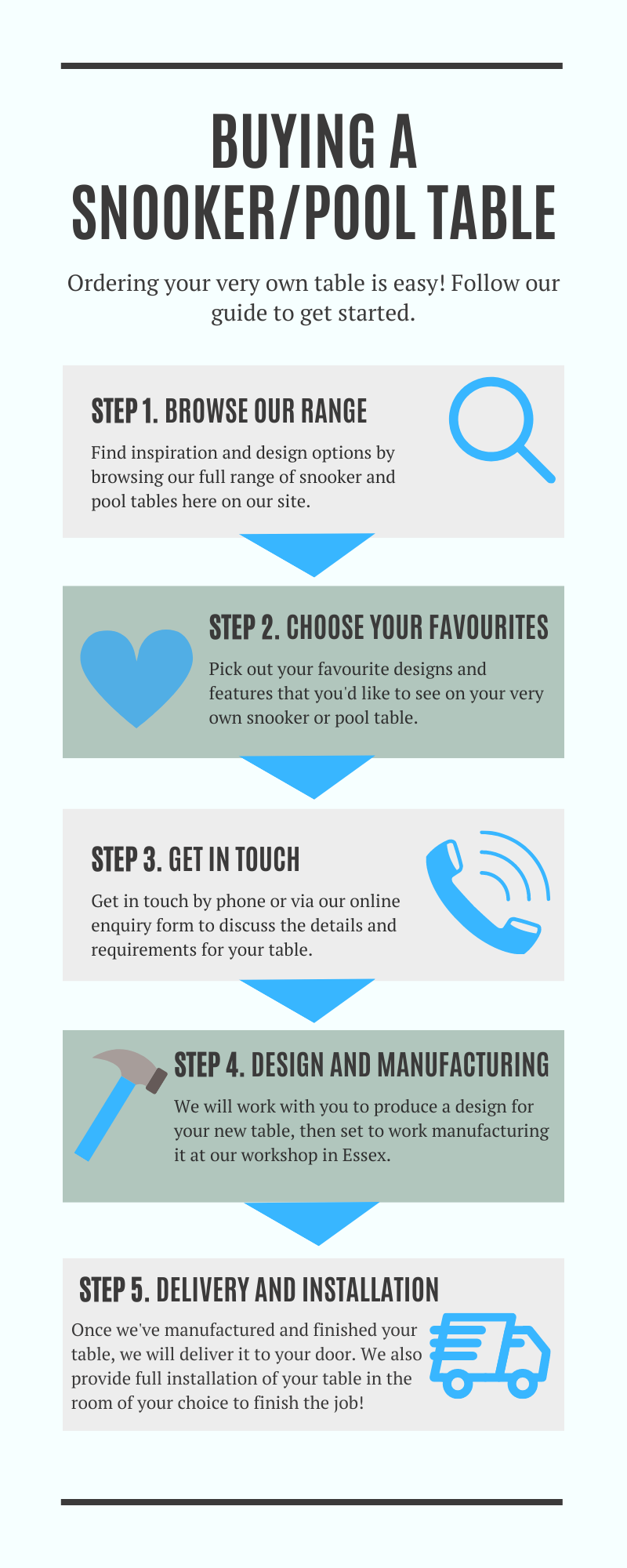 Step 1 - Browse Our Range
Our range of snooker and pool tables ranges from UK pool and UK snooker tables to American pool tables, through to pool and snooker dining tables and more. From modern and contemporary designs to traditional styles, we have crafted a number of unique tables in the decades since our founding and have displayed some of our most popular designs and models here for you to browse. Why not take a look around for inspiration on what might suit you and your home best?
Step 2 - Choose Your Favourites
If one of our tables has caught your eye or you've set your heart on any of the features that you see, now is the time to make a note of your favourites! As we operate on a bespoke, custom-made basis, we can produce the table of your dreams according to your requirements and preferences - all you have to do is choose.
Step 3 - Get In Touch
Once you have an idea of what you want your table to look like, or you need a little help in choosing the best features for you, our team are on hand to help. We can discuss your table with you in detail and provide you with a bespoke quote for the cost of design, manufacturing and delivery and installation of your new snooker or pool table. Once you give the go-ahead, it's time to start the manufacturing process!
Step 4 - Design And Manufacturing
We design and manufacture all of our tables in-house, using decades of well-honed craftsmanship skills to produce the exact table that you want. We do everything from planing the wood, to pinning the beds and finishing it all off with a unique shine. We know that every client is unique and every table we produce is done with the same care and attention to detail as any other to ensure that you only receive the best.
Step 5 - Delivery And Installation
As part of the experience of buying a snooker or pool table from us, we provide delivery and installation across the UK and beyond. We want to ensure that your table is not only produced perfectly, but is installed and set up with longevity in mind. We will do all of the heavy lifting for you, meaning you can sit back and relax, ready to enjoy your table once it's set up and ready to go.
If you have any questions about the process of ordering a snooker or pool table, or you'd like to get started with the design and manufacturing of your dream one, get in touch with our friendly team, today.